We are continuing our work to document the events and experiences of enforced disappearance. Gamze Hızlı, of our documentation team, has written about the interviews we are conducting and the database we are using.
Gamze Hızlı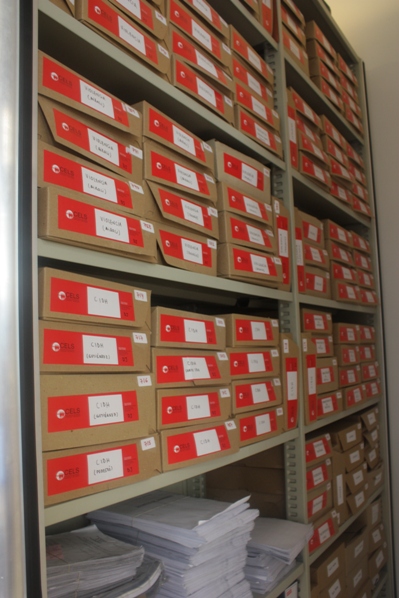 The archive of CELS, Argentina
The documentation of rights violations can take on several forms and dimensions. Hafıza Merkezi has initiated its work on documentation with the goals of bringing to light the truth about Turkey's past of state terror and serious, systematic human rights violations, as well as strengthening collective memory, bringing responsible parties before a court in order to overcome impunity, and providing access to justice for those affected by violations. In line with these objectives, we plan to conduct a comprehensive documentation project on enforced disappearance. These interviews will be conducted with the relatives of the disappeared, lawyers, and other witnesses of the era, including activists, politicians, and journalists. We aim to use these interviews in order to uncover the details of what happened as well as to expose the intersections and connections among perpetrators, victims, political arbiters, the methods used, and the shield of impunity. Our other goals include sharing the stories of the disappeared, rendering visible the crimes against humanity committed against them, and strengthening collective memory on these subjects.
As part of our documentation work, we are conducting interviews in two pilot cities, İstanbul and Şırnak. We started in İstanbul because a significant number of the families of the disappeared migrated there for a variety of reasons. The reason we chose Şırnak, however, is because it is one of the places where enforced disappearance occurred most heavily. Furthermore, we hope to generate public interest in the continuing case of "Temizöz and others," which has not received adequate public attention despite the efforts of victims' relatives and particular institutions. After a long period of preparation, the interviews we began in İstanbul in August 2012 will be supplemented by fieldwork in Şırnak, beginning in September.
Our database

Archiving is key to our work, particularly in terms of defining the value of the information we gather and enabling our efforts to disseminate this information.
Although documentation is at the center of all of our work, we struggled to find a method of archiving the information we are gathering over the course of our fieldwork. Archiving is key to our work, particularly in terms of defining the value of the information we gather and enabling our efforts to disseminate this information.
With the permission of the interviewees, we are conducting audio and video recordings over the course of each interview. Afterwards, we place the information that we have into a database called OpenEvsys, used by many human rights organizations around the world. OpenEvsys is a free database software developed by a Switzerland-based civil society organization called HURIDOCS in order to provide support for information technology to human rights organizations. With this comprehensive software, we can archive the data they collect concerning events, victims, perpetrators, witnesses, and other involved parties. Then, with a few clicks, it is possible to analyze these data, find patterns among events, and generate reports. Additionally, we can upload all of our documents and files and save them to the database. The software has further advantages, such as guaranteeing data security and allowing the user freedom of movement when accessing the database online. The data in the system is stored in international servers and is backed up daily, ensuring maximum security.  In this way, the database makes it easy to access, follow, compare, and analyze information. The user can also easily adjust the settings, terms, indexes, and coding systems to facilitate sharing among institutions and individuals.
Similar experiences from around the world show that the biggest obstacle to rebuilding collective memory is a society's lack of will power to uncover the truths about past injustices. Overcoming this obstacle will regenerate a sense of justice, empower victims and survivors, and enable reconciliation. In this regard, documentation comprises our organization's entire framework. We therefore aim to share the testimonies we have gathered as soon as possible by categorizing them and creating a search engine that will allow the general public to view our data and analyses.