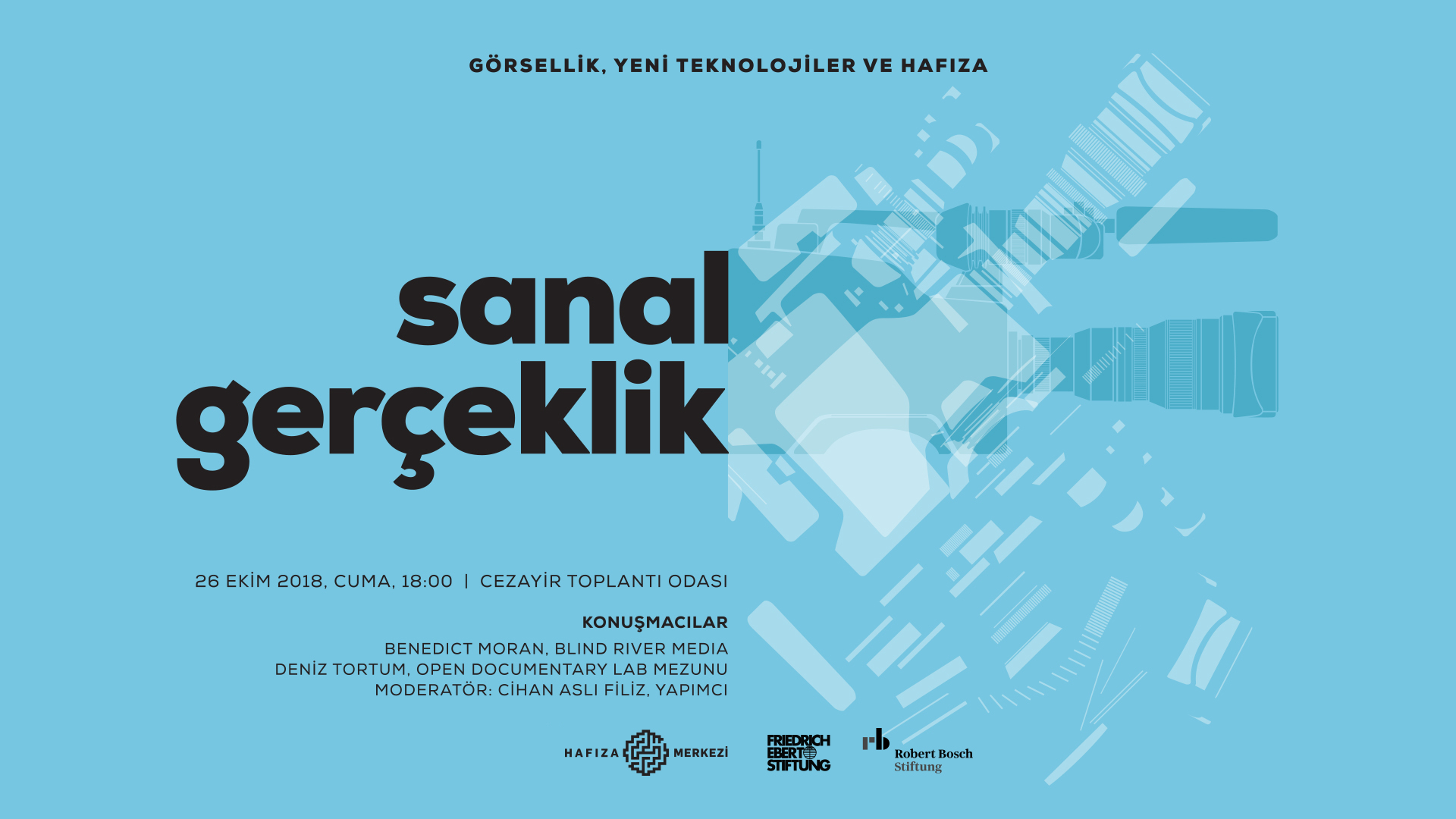 For some time now, Hafıza Merkezi has been working on forging closer ties with creative sectors in order to utilize novel and creative approaches to narrate human right violations the center has been documenting. This fall, as part of our ongoing efforts, we will organize a four-panel series titled "Visualization, New Technologies and Collective Memory. The first of these panels will focus on the visual reality. Award winning journalist and independent filmmaker Benedict Moran and director Deniz Tortum will speak on their visual reality projects and producer Cihan Aslı Filiz will facilitate the discussion.
There will be simultaneous translation from Turkish to English during the panel.
---
Speakers
Benedict Moran has directed, reported, and produced for various well respected media outlets including The Guardian, PBS Frontline and Al Jazeera. He has traveled and worked in more than 80 countries, including with fellowship support from the Pulitzer Center for Crisis Reporting, the European Journalism Center and The Brown Institute for Media Innovation. Benedict earned a Masters of Science in Journalism and a Masters of International Affairs from Columbia University. He has produced various projects at the intersection of journalism and new media technologies, including "Battle of Mosul," covering the battle against ISIS for control of the city of Mosul, "On the Brink of Famine" that takes you inside South Sudan in 360° to meet people battling a man-made hunger crisis, "Out of Sight," a 360° film telling the stories of the health workers battling tropical diseases in Nigeria and Congo. Benedict is also one of the founders of Blindriver Media, dedicated to the production of visual reality and documentary projects.
Deniz Tortum works in film and new media. He is a graduate of MIT Comparative Media Studies and has worked as a research assistant at the Open Documentary Lab. His movies has been shown and awarded in various festivals like SxSW, True/False, Sheffield, Dokufest, !F İstanbul. Deniz is one of the creators of the visual reality project inspired from Martam Şahinyan and Osep Minasoğlu's photography archives "September 1955," telling the story of 6-7 September pogrom by placing the viewer in a reconstructed photography studio in the midst of the pogrom. Other new media projects he has developed showed in Venice Film Festival and Istanbul Sharjah Biennale. Deniz was invited to Film Studies Center at Harvard University with his documentary project on Cerrahpaşa Hospital. He still continues to work on that project.
Cihan Aslı Filiz started her career in cinema sector in Bir Film as a distributor. Aslı was invited to independent cinema school in Venice, organized by CICAE, as well as Talent Campus at Berlin Film Festival. In 2016, she studied film production at EAVE (European Audiovisual Entrepreneurs). Her productions, including Gelecek Uzun Sürer, Babamın Sesi and Körfez has been premiered, screened and awarded at prestigious festivals like Venice Film Festival, Rotterdam Film Festival, Tokyo Film Festival and Toronto Film Festival. After her latest project, 7yüz, she continues to develop online series and investigate possibilities of storytelling through visual reality.
Why "Visualization, New Technologies and Collective Memory"?
The idea of human rights is under serious attack around the world. Space for civil society continues to shrink in Turkey as demonstrated by the recent ban on Saturday Mothers. Far right movements are gaining ground everywhere in Europe as anti-immigration and racism are on the rise. Global discussions around post-truth and populism are trying to make sense of this upheaval. In this new environment of authoritarianism and societal polarization, the legitimacy of human rights and its premises are increasingly weakened. In short, the world is becoming a difficult place for human rights.
These circumstances push human rights community to experiment with new ways to communicate their work as well as to benefit from novel tools and approaches of different disciplines. In Hafıza Merkezi, we have been reshaping our work in relation to the pressing issues of today without losing sight of our focus on dealing with the past. It is in this context that ask ourselves the following question: "How can we work with new methods of storytelling with a view to open up new venues for communicating human rights violations to wider segments of society?"
As an organization whose work focuses on coming to terms with past atrocities, our interest in telling stories primarily aims at democratization of people's relationship with the past. In other words, we want to use creative methods of storytelling to encourage people to think about and learn alternative versions of history. In the literature of public remembrance, such efforts are coined as "memorialization" which carry specific traits. Turning former detention centers' into museums is a common example all around the world. Monuments, commemorations and movies not only facilitate the recognition of the victims' pain but also pave the way for a collective questioning on what made these disasters possible in the first place. Since the Second World War, memorialization efforts have focused in similar attempts to understand, teach and narrate about the past.
Is it still a worthy effort in Turkey to try to understand and narrate critically about the past in an environment in which Roboski Monument is demolished, Saturday Mothers is banned and public funds for critical movies are withdrawn? Our answer is, yes! We don't have any other choice than trying new ways, learning from others and keep doing what needs to be done.
Panel Series
Our panel series titled Visualization, New Technologies and Collective Memory investigates new mediums of storytelling that have emerged with the recent developments in visual communication, technology and pedagogy in terms of their possible contributions to collective memory. Data visualization, interactive design, virtual reality are not only mediums that complement memorialization efforts mentioned above, but also create new venues. When designed well, games can help us bring "heavy issues" to the playing field of young people. These novel forms of narration, with their emphasis on interaction and storytelling, can transform learning from an abstract process to an experience that is more immersive and situated.
In this panel series, we will focus on fields like virtual reality, gaming, data visualization, new technologies and forensic architecture. In each panel, we will discuss different cases that couple these fields with issues related to human rights, peace and memory. These panels are only the beginning to a discussion that we hope to pursue and enrich in the coming days, which hopefully will contribute to efforts of healing our troubled relationship with the past and be a source of inspiration for creating new repertoires for human rights struggle.
Human Rights and Creative Communication
This panel series is part of our efforts to enhance collaboration between human rights actors and creative disciplines. In this context, besides the panels, we also bring 8 human rights NGOs together with 15 experts from creative industries in a structured process whereby for each NGO a creative communication project tailored to their needs and data are produced in a collaborative and interdisciplinary process. The panel series is a learning component of this hands-on, applied process, supporting it by introducing good practices from around the world and Turkey that bring together human rights, visualization and new technologies.