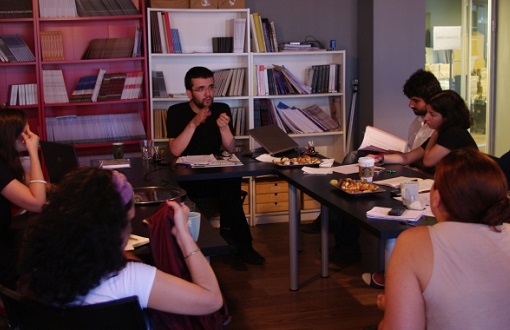 18.06.2012
TIHV: two decades of documenting the truth
<< ALL NEWS
The Civil Society Initiative for Truth Commissions is continuing to organize meetings on the documentation efforts of various organizations. On Saturday, 16 June 2012, Evren Özer from the Human Rights Foundation of Turkey (TİHV) Documentation Center spoke to us about their efforts.
The TİHV Documentation Center was founded in Ankara in 1990 to document and report human rights violations. Initiated by Helmut Oberdiek, the center has been working continuously for 20 years. The documentation undertaken by the center primarily stems from press monitoring and analysis. Additionally, their efforts are complemented by information gathered from the Human Rights Association (İHD), TİHV's local branches, and other rights organizations; from the exercise of the right to information; and from parliamentary inquiries.
TİHV Methodology
Violations are collected and documented under seven different headings: Right to life, personal security, prisons, freedom of expression, freedom to demonstrate and hold meetings, freedom to organize and finally other violations related to the Kurdish issue. The violations that occur in the context of the Kurdish issue and do not fall under the first six categories are compiled under the seventh heading. In the 1990s violations by paramilitary village guards and those due to the state of emergency were documented under this heading. According to Özer, with the termination of the state of emergency there has been a significant decline in violations under this heading.
Daily and annual reports documenting violations under these headings are published periodically.
TİHV's continuous monitoring culminates in daily and yearly reports documenting violations under these seven headings. Daily bulletins are prepared by reviewing 38 newspapers, magazines and news wires on a daily basis.[1] A news pool is developed through the morning, afternoon and evening reviews, and the news for the daily bulletin are selected from this pool. The news are checked to verify names of people, date and place of the incident, and if information is missing, the relevant parties are contacted. The monthly reporting, which was done when the center was launched but then discontinued, resumed again this year. The monthly reports are prepared as a 2- to 3-page fact sheet. Annual reports have been published every year since the foundation of the center. Beyond presenting the accumulation of the daily reports, the TİHV annual reports can serve as an inventory of the status of human rights in Turkey. In addition to the daily and annual reports, special reports can be quite effective in molding public opinion. For example, two years after the Law on Police Mandate and Authority was reformed, TİHV drafted a report on the reform. The reform has contributed to public awareness that the reform led to an increase of torture and maltreatment; it has also opened up space for the issue to be discussed in national media. The Documentation Center also drafts special reports for political parties and other organizations. Political parties, consulates, and students contact TİHV when they need information on human rights violations. TİHV is also planning to prepare a 10-year human rights report card on the occasion of the 10th anniversary of the AKP (Justice and Development Party) government. In addition to documenting human rights violations, the reports are also used as reference for refugee appeals and ECHR decisions. One TİHV report was cited as justification for a local court case decision.

Evren Özer
How are the reports disseminated?
The daily report bulletins are sent to a news list that has 519 members. It is possible to become a member and access the reports on the internet, Facebook and Twitter. The visitor statistics in these media indicate that these media are being used effectively. 40 to 50 people visit the website daily and the center has 3,101 followers on Facebook and 5,000 on Twitter. Naturally, all this work requires considerable human resources. While at the outset the center had a staff of 7-10 people, including 2-3 translators, due to financial constraints the center has only had one staff member since 2007. Because of the shortage of staff, only the daily reports are able to be translated. For example, the last annual report to be translated to English was in 2005. Due to limited resources, the reports, which used to be printed, have not been available as a hard copy since 2008.
There has been a conspicuous increase in violations in recent years
TİHV's documents provide an important resource for monitoring the government's human rights policies. We can see that, according to the statistics, there has been a significant increase in rights violations in 2012. While in previous years the number of incidents documented was approximately 200 a month, in 2012 there were over 250 incidents. It seems that there has been a particularly significant increase in violations of the right to organize.
Documented human rights violations (TİHV)
 
2011
2012
March
 114
 218
April
 144
 207
May
 122
 276
June (first half)
 76
 149
Based on the documentation provided by TİHV, if we examine torture, it is possible to trace how torture methods have changed, where and for what purposes people are tortured. While there has been a decrease in the appeals to the foundation for incidents of torture between 2000-2005, since 2005 there has been an increase as a result of the reform of the Turkish Penal Code. Interestingly, after 2005, torture and maltreatment methods have changed as well. Most of the appeals now come from those who have been subject to police batons and pepper gas at demonstrations rather than torture experienced in custody or at police stations. It can therefore be inferred that torture is now being employed as a means to exert fear on society rather than as a method for extracting information. According to Özer, no matter how important this documentation is, it can also create an alienating effect. If there is negligence in the reports, suffering may be reduced to mere numbers and the suffering of those other than the primary aggrieved party may be "overlooked." Thus, it is essential to analyze the social impact of these cases.
It is imperative for human rights organizations to work together
At the end of the meeting the importance of collaboration between human rights organizations was underscored. Coming together to develop a common terminology in order to prevent redundancy can help foster mutual understanding. Subsequently, it will be possible to discuss the possibility of combining the data collected by different human rights organizations. The next goal of TİHV Documentation Center is to undertake a monitoring and archiving initiative on the 1990s together with Helmut Oberdiek. To this end, they plan to do a review of press coverage on violations and conduct research on the DGM (former State Security Court) archives. Through this research it will be possible to arrive at a real number of unsolved murders to counter the alleged number of seventeen thousand victims.
---
[1] Akşam, Zaman, Yeni Şafak, Vatan, Star, Sabah, Radikal, Milliyet, Hürriyet, Evrensel, Birgün, Cumhuriyet, Vakit, Fırat Haber Ajansı, Atılım, Yurt, Gündem, Ntvmsnbc.com, Bianet.org, Indymedia.org, Sesonline.net, Gazetem.net, Haber7.com, Yeni Özgür Politika, Libre Haber Ajansı, Halkinsesi.tv, Cnnturk, Alinteri, Kızılbayrak, Taraf, Habertürk, Özgür Radyo.