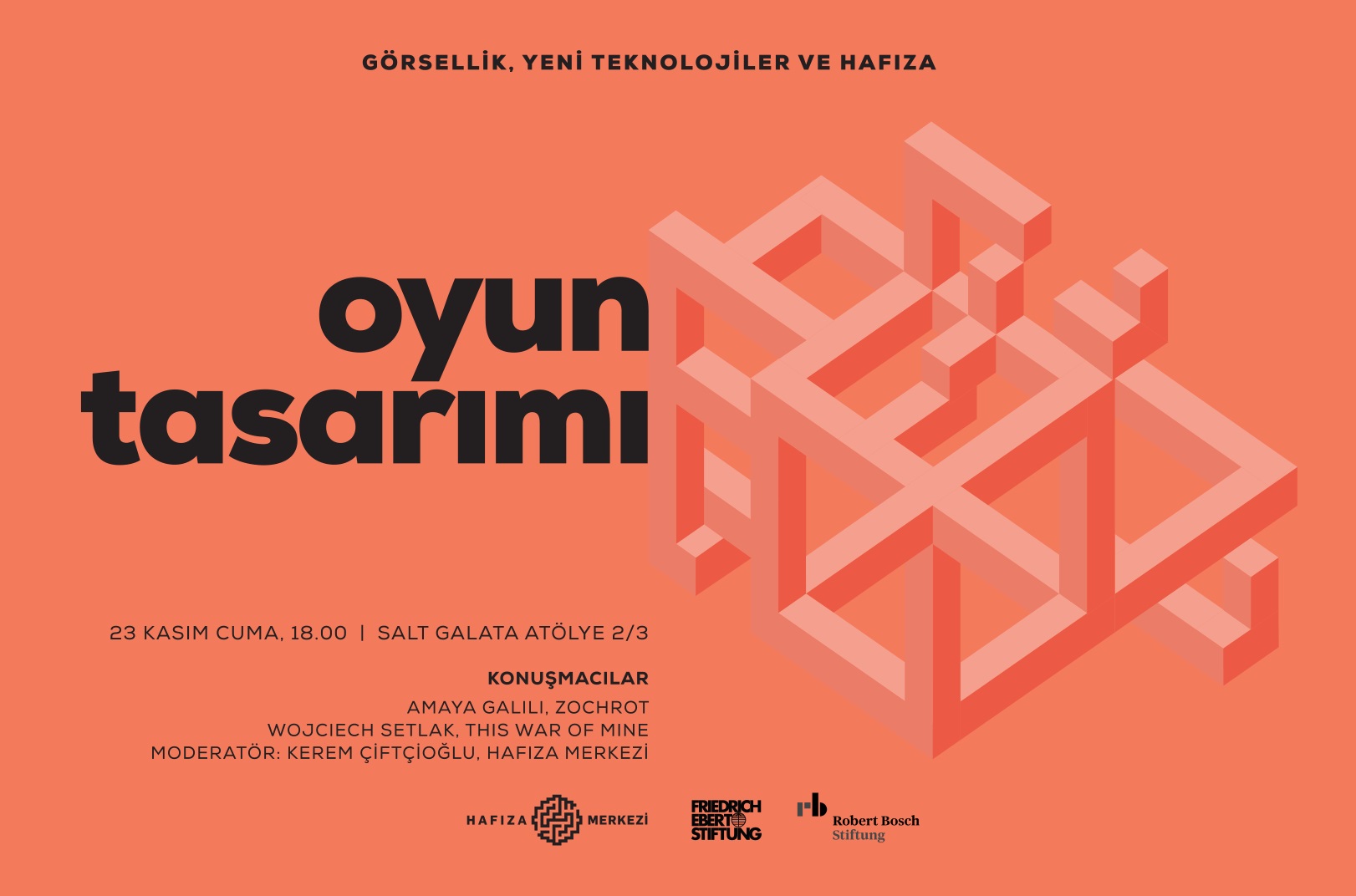 Is it possible to bring "difficult topics" to the level of young people using well-designed games? How can we meet the problem-solving motivation intrinsic to games with values of human rights? In this second event of our panel series "Visualization, New Technologies and Collective Memory", we will discuss games as possible tools for establishing a more democratic relationship with the past. The purpose of this panel series which began with a panel on virtual reality on October 26 is to introduce cases that have been successful in raising awareness on human rights using novel mediums. In our second panel we shift our focus to what has become the leading industry in the world. The two speakers of the panel are Wojciech Setlak, writer of the computer game This War of Mine, and Amaya Galili, education coordinator of Zochrot, an human rights NGO based in Israel. Kerem Çiftçioğlu, Communiations and Advocacy Coordinator of Hafıza Merkezi, will moderate the panel.
Date: 23 November Friday, 18.00
Venue: SALT Galata,
There will be simultaneous translation from Turkish to English during the panel.
---
Speakers
Wojciech Setlak joined Warsaw based game development company 11 bitstudios' team in 2014, after having led a career as a journalist and editor. Wojciech had worked as a writer in the development of This War of Mine that was launched by 11 bitstudios in 2014. Unlike most war games, the protogonist of This War of Mine is not a combatant who is focused on eliminating all its enemies, but a civilian whose sole aim is to survive the war. This War of Mine has been praised around the world and received more than 100 awards. The game is loosely based on the siege of Sarajevo and 1944 Warsaw uprising. This War of Mine actually does not focus on a particular war or conflict but rather narrates the story of the struggle of civilians whose everyday lives are shaped with fatigue, hunger, disease and death. Wojciech co-created the game's backstory as well as a great deal of the game's texts and still continues to develop games for 11 bitstudios.
Amaya Galilia works as the education coordination of Zochrot, a Tel Aviv based NGO founded in 2002. Zochrot was founded to promote acknowledgement and accountability for the displacement of more than 700.000 Palestinians in 1948, also known as al Nakba (The Catasthrope), and to reconceptualize return of Palestinian refugees. In 2016, Zochort's Education Department initaited a Game Lab that brings together educators, artists, students and game designers. The Lab, which is organized once a year, aims to create games that enable Israeli society to better undestand what Nakba is and reconceptualize the return of Palestinians. Board and card games that have been designed at the Lab lead the players to critically engage with the official history of the displacement of Palestinians as well as issues such as justice, conflict and violence.
Kerem Çiftçioğlu Hafıza Merkezi'ne 2014 yılında İletişim ve Savunuculuk Koordinatörü olarak katıldı. Hafıza Merkezi özellikle 90'lı yıllarda yaşanan ağır insan hakları ihlallerinin evrensel standartlarda belgelenmesi, emsal olabilecek davaların takibi ve hak ihlallerine ilişkin gerçeklerin toplumun geniş kesimlerine anlatılmasına yönelik faaliyetler yürütüyor. Hafıza Merkezi 2017 yılında verilerini video, tasarım, veri görselleştirme, illüstrasyon ve yazılım gibi farklı disiplinlerden insanlara açtığı bir çalıştay organize etti. Kerem bu tarihten beri Hafıza Merkezi'nin yaratıcı sektörler ile daha yakın ilişkiler kurma ve belgelediği hak ihlallerini yenilikçi anlatım biçimlerinden yararlanarak anlatma çabalarını koordine ediyor.
Why "Visualization, New Technologies and Collective Memory"?
The idea of human rights is under serious attack around the world. Space for civil society continues to shrink in Turkey as demonstrated by the recent ban on Saturday Mothers. Far right movements are gaining ground everywhere in Europe as anti-immigration and racism are on the rise. Global discussions around post-truth and populism are trying to make sense of this upheaval. In this new environment of authoritarianism and societal polarization, the legitimacy of human rights and its premises are increasingly weakened. In short, the world is becoming a difficult place for human rights.
These circumstances push human rights community to experiment with new ways to communicate their work as well as to benefit from novel tools and approaches of different disciplines. In Hafıza Merkezi, we have been reshaping our work in relation to the pressing issues of today without losing sight of our focus on dealing with the past. It is in this context that ask ourselves the following question: "How can we work with new methods of storytelling with a view to open up new venues for communicating human rights violations to wider segments of society?"
As an organization whose work focuses on coming to terms with past atrocities, our interest in telling stories primarily aims at democratization of people's relationship with the past. In other words, we want to use creative methods of storytelling to encourage people to think about and learn alternative versions of history. In the literature of public remembrance, such efforts are coined as "memorialization" which carry specific traits. Turning former detention centers' into museums is a common example all around the world. Monuments, commemorations and movies not only facilitate the recognition of the victims' pain but also pave the way for a collective questioning on what made these disasters possible in the first place. Since the Second World War, memorialization efforts have focused in similar attempts to understand, teach and narrate about the past.
Is it still a worthy effort in Turkey to try to understand and narrate critically about the past in an environment in which Roboski Monument is demolished, Saturday Mothers is banned and public funds for critical movies are withdrawn? Our answer is, yes! We don't have any other choice than trying new ways, learning from others and keep doing what needs to be done.
Panel Series
Our panel series titled Visualization, New Technologies and Collective Memory investigates new mediums of storytelling that have emerged with the recent developments in visual communication, technology and pedagogy in terms of their possible contributions to collective memory. Data visualization, interactive design, virtual reality are not only mediums that complement memorialization efforts mentioned above, but also create new venues. When designed well, games can help us bring "heavy issues" to the playing field of young people. These novel forms of narration, with their emphasis on interaction and storytelling, can transform learning from an abstract process to an experience that is more immersive and situated.
In this panel series, we will focus on fields like virtual reality, gaming, data visualization, new technologies and forensic architecture. In each panel, we will discuss different cases that couple these fields with issues related to human rights, peace and memory. These panels are only the beginning to a discussion that we hope to pursue and enrich in the coming days, which hopefully will contribute to efforts of healing our troubled relationship with the past and be a source of inspiration for creating new repertoires for human rights struggle.
Human Rights and Creative Communication
This panel series is part of our efforts to enhance collaboration between human rights actors and creative disciplines. In this context, besides the panels, we also bring 8 human rights NGOs together with 15 experts from creative industries in a structured process whereby for each NGO a creative communication project tailored to their needs and data are produced in a collaborative and interdisciplinary process. The panel series is a learning component of this hands-on, applied process, supporting it by introducing good practices from around the world and Turkey that bring together human rights, visualization and new technologies.